Interactive Voice Response System
Turn anonymous callers into highly qualified leads
Real estate Interactive Voice Response systems is a customer-focused marketing solution with proven results. These systems give buyers access to detailed, professionally-voiced property descriptions, 24 hours a day, 7 days a week. They also provide consumers with the ability to be directly connected to the listing sales associate, search nearby listings, and perform monthly mortgage payment calculations.
Best of all, IVR systems turn anonymous callers into highly qualified leads. Constellation Web Solutions Ultimate IVR System provides the most detailed reporting you'll find in any real estate marketing tool. You'll know exactly who called, when they called, how long they listened, what properties they listened to, and which advertising source generated the call.
How It Works - The Concatenated System
Constellation Web Solutions professionally voices the properties listing agent, company name, number of bedrooms, number of baths, property price and property location. Additional remarks can also be professionally voiced by Constellation Web Solutions that will play after the initial property information.
Benefits For Your Company
Exposure 24 hours a day, 7 days a week on a system designed especially for your company.
Branding exposure for your affiliates such as Relocation, Mortgage, Careers, and Title.
Benefits For Your Agents
Promote and expose current property inventory 24 hours a day, 7 days a week to prospective buyers.
Receive real time caller activity of properties to an e-mail address and cell phone/text messaging capable pager.
Caller Reports are accessed in a simple to use reporting system. The reporting system shows full property activity in the form of direct property entries and property searches with caller ID(Name/Number) where available.
Listing Presentation Power
An Interactive Voice System is the best way to show prospective sellers the power of your company's marketing tools and the best way to demonstrate why your company has access to more buyers.
Imagine the power of the following scenario- in the middle of a listing presentation, the sales associate places their pager on the table, picks up the sellers' telephone and calls your company's IVR system to demonstrate how the IVR works. As they access one of their existing listings and the seller listens to the system the sales associate's pager/cell phone begins to beep. The sales associate picks the pager/cell phone up and shows the seller their own name, telephone number and information on the property they're listening to. How much more impressive can you get!
Real-Time leads
The scenario above shows how powerful real-time caller-ID information can be in a listing presentation, but that's just the start! Every time a consumer calls your company's IVR system, a page is sent to the listing sales associate of the first property they listen to. The sales associate will receive the caller's name (when available) and phone number, as well as the property code and address of the property they listened to and a media tracking code. This same information can also be sent to the sales associate's e-mail address.
With IVR, your sales associates have access to the hottest leads in the market. IVR delivers real consumers in real time. They're shopping for homes right now, and you know it.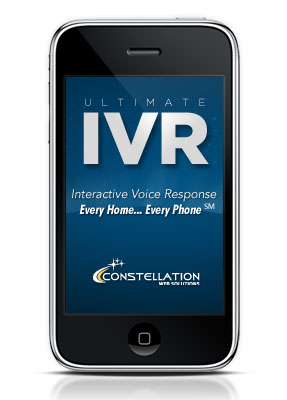 ---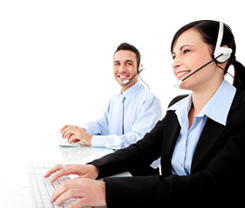 Contact a Sales Representative Today!
Request Additional Information
Let Constellation's team of experienced professionals help you build the right solution for your organization. Contact us today to learn how we can make your web presence produce results. Contact Us Today! »